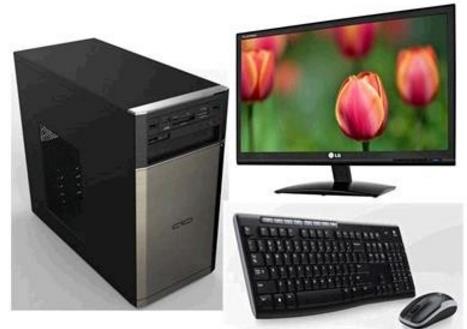 Computerz and More LtdŽ, Webpage4UŽ, Gisborne.New Zealand. Copyright Š2012. http://www.webpage4u.co.nz All rights reserved
Cash Price $1699.00

Std RTB Warranty 12 months

Extend to 3 year part & labour return to base warranty + $299.00

Some items may differ depending on Stock levels at time of sale
You are on the Home Computer Page
Box only version, (No Screen, Keyboard or Mouse) $1490.00
(Components can be substituted with equivalent items due to the stock availability)

Affordable Family PC

An affordable PC for those who are in need of a system just for basic home use. If you don't require premium components for running a high end workstation or Gaming PC, then this PC will be perfect for you! The Dual Core Processor and Radeon HD8470D graphics will get you through everyday tasks with no problems. You can even set this up as a home media PC as there is plenty of power for video streaming in Full HD.

CPU - AMD A4-7300

AMD is known for making great CPUs for a very accommodating price, but that does not mean they lack power. This A4-7300 is Dual Core and runs at a whopping 3.8Ghz which is very impressive.

Motherboard - FM2+ socket

A very basic motherboard which was designed to handle the FM2+ CPUs will have everything you need for your average Joe.

Storage - 1TB Hard drive

1TB of storage is plenty for most people, there are expansion slots if you require more.
CPU
AMD Trinity A4-7300 Dual Core 3.8Ghz, integrated graphics Radeon HD8470D
Motherboard
FM2+ socket, DDR3 support, 4x SATA 3
Memory
8GB DDR3 RAM
Hard Drive
1TB HDD for all your storage needs
Case
ATX Mid Tower case
Optical Drive
DVDRW
Network Card
PCIE Wi-Fi adapter, 300Mbps
Operating System
Windows 10